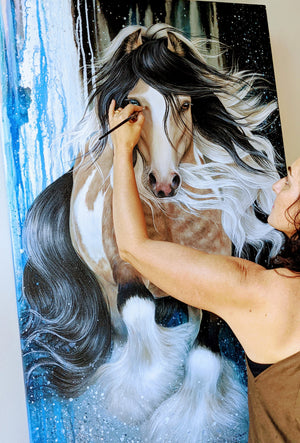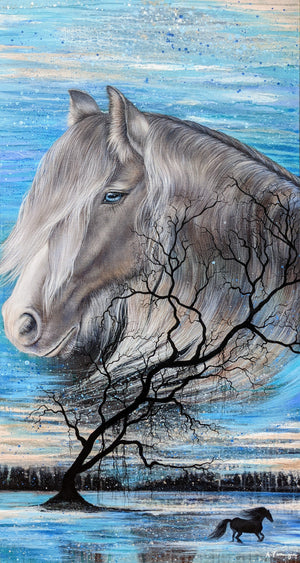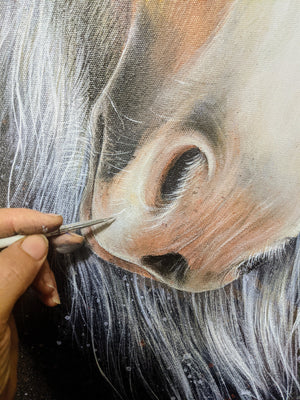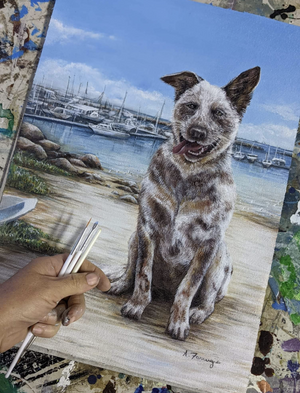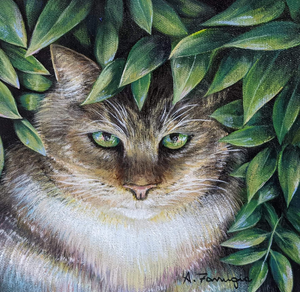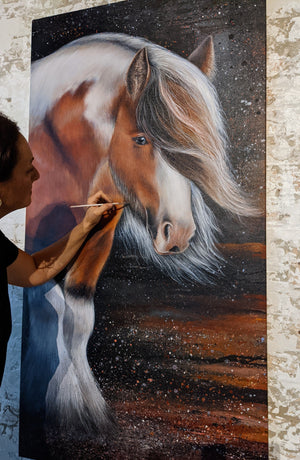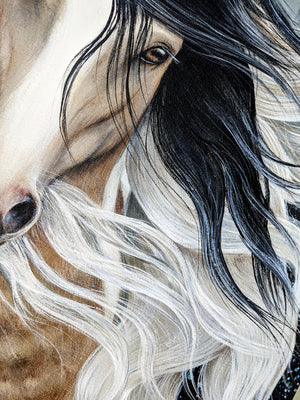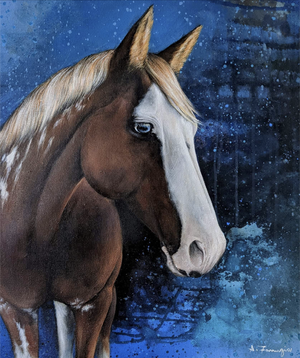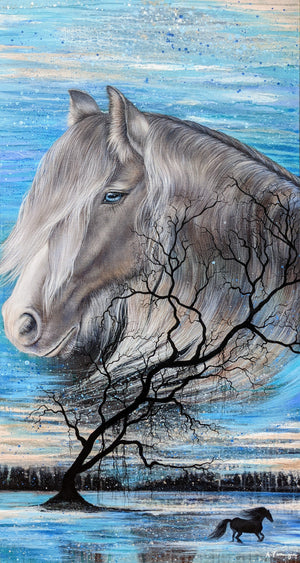 Pet Portrait Order Information
 Thank you for your interest in my pet portraits.
My paintings are hand painted with fine detail, resulting in a realistic and life-like portrait.  Hairs and all, one stroke at a time.  Only the highest quality materials are used so that the painting will last a lifetime. I use Museum grade canvas and high pigmented UV resistant acrylic paint, finished in a UV resistant finish coat. My portrait paintings take me at least 2 month+ ( 8 hours a day) to complete.
My prices are based on the details and subjects within the portrait.  All portraits are priced on application however following is a guide to help you work within your budget and needs. 
BP-Basic Portrait head/neck shot, plain background.
FBD-Full Body of your pet with my dreamy mystic background.
MS- Memory Story Scene includes your pet in full body and a memorable scenary landscape background and/or items to tell a story with extra features.
Keep in mind, coat details such as dappled coats take more time to paint as they are more detailed, this will reflected on price.  Multiple pets will be more in price, as this will multiply my time creating the portrait. A scenic background, a tree, a pond etc is another subject matter, this is classed as my MS price range.
I believe the A2 sheet is the most affordable and the best for your money.  However the larger canvases ready to hang, are by far more outstanding and detailed. 
Each pet is unique and quoted apon request.  Custom sizes are available. Sample prices are as follows includes delivery AU:
Painting on canvas sheet ( to be inserted in your own picture frame.) 
A3, 42 X 29.7 BP-$520, FBD $ 980, MS $1250+
A2, 42 X 59.4 BP-$895, FBD $ 1280, MS $1550+
Stretched canvas ready to hang
90 X 60cm    BP-$1195, FBD $ 1850, MS $1950+
120 X 80cm   BP-$1595, FBD $ 2550, MS $2880+
150 X 90cm   BP-$1795, FBD $2950, MS $3580+
Larger available.
I do orders regularly as I am a full time artist, so there will be a waiting period, however feel free to enquire about current time frame.
A minimum of $520 deposit is required or 50% deposit for larger stretch canvas portraits.  Balance is to be paid apon completion and your satisfaction.  To start your order process please pay your deposit above. I will get in contact with you within 5 days. Please feel free to contact me if you have any questions before commencement.