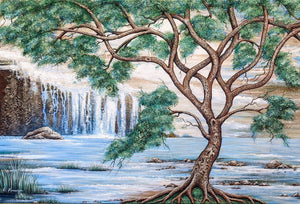 My Tranquil Place To Be
Print quality is of archival fine art pigmented inks on museum grade fine art cotton card.
FREE insured delivery Australia wide. 
"My Tranquil Place To Be" definitely gives those viewing her that feeling. Sitting now with my cup of tea, seeing it change as the light in the room changes is relaxing and helps your mind switch off all things other than the beautiful imagery before you.   
 Vibrant depth and colours of blues and fresh greens, peach hues, rustic brown, beige, grey, black and white.    Detail of plenty but still so simple and elegant, that will give any home that perfect ambience.