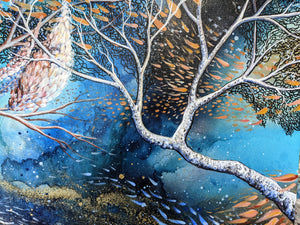 Floating in Dreamland Prints #2
Print quality is of archival fine art pigmented inks on museum grade fine art cotton card. Price includes postage.
Be swept away into this painting of tranquility.  The image represents a dream like underwater world meets forest of tree like coral and rock.   Created with layers of paint and texture, including some real aspects of nature.    This painting will have you forever engaged with its detail.  You can touch it, feel it and visually feed your senses.      Gorgeous colours that will suit any decor.    I tend to drift away feeling peaceful when I make these paintings, and this certainly will be reflected into your home or work space.