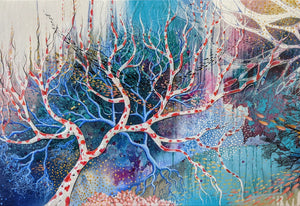 Coral Bliss PRINT #2
Print quality is of archival fine art pigmented inks on museum grade fine art cotton card. Price includes postage Australia wide.
 "Coral Bliss" will brighten your home and heart. Inspired by the life and patterns under the sea. Featuring texture and vibrant colours of gold, aqua, blues, peachy pink, coral, red, orange, lavenders, sand, emerald, black and white.