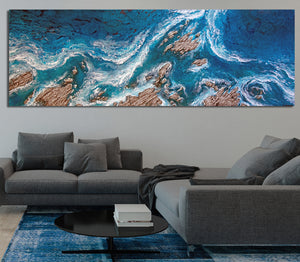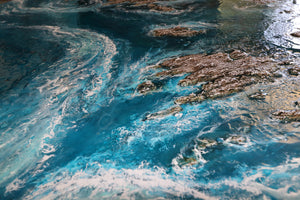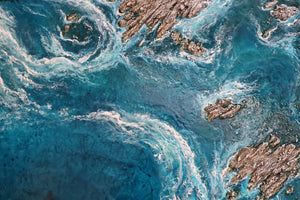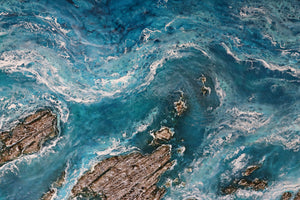 "Into the Deep"Textured Mixed Mediums Sold Commissions Welcome
A sculptured texture painting from my "Ocean Shores Series".  This creation comes to life featuring waves crashing on the sharp rocky landscape.   The ocean is sculpted from layers of resin applied by brush hand painted by Amelia.  This painting has that glass gloss finish so from any angle you capture the texture and movement of this stunning painting.   Multiple layers of colour and transparency's giving you the real water ocean appearance.  Truly a collectors piece.  One of my most creative, rewarding, time consuming, detailed artworks.
Premium quality resin glass, inks and acrylic on board 4cm thick. 204cm wide x 76cm high.
SOLD Please enquire about  a commission order i4artamelia@outlook.com 
FREE insured delivery Australia wide. SATISFACTION GUARANTEE with our 7 day return policy.  ( I am confident you will love it). Lay-buy Welcome.