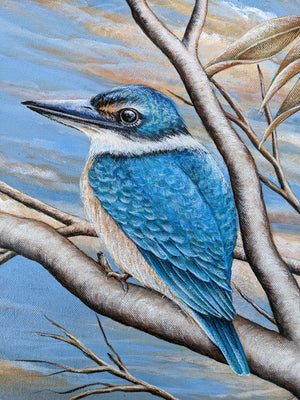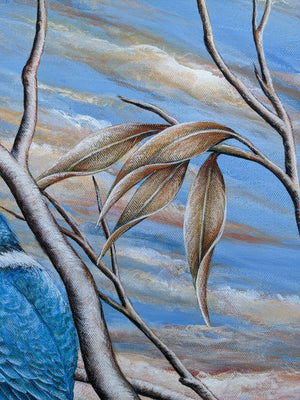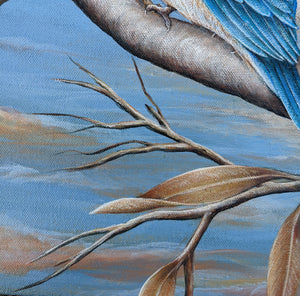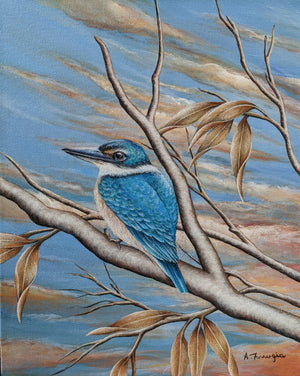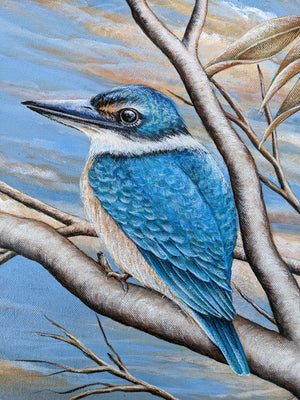 Young and Sacred.
" Young and Sacred" featuring a juvenile Sacred Kingfisher.
This painting features a young juvenile Sacred Kingfisher. These creatures visit our property every mating season and raise their young.  I am blessed to watch the young ones grow and learn from their committed parents.
This painting has very vibrant earth tones inspired by a warm afternoon sunset that takes your breath away.   The cute and beautiful juvenile kingfisher has been painted with precise detail, that one could sit by it and view all day.  Seeing every brush stroke come to life.  The leaves and gum tree have been painted in warm rustic tones as I felt doing so gave the entire painting a wonderful warm, delicate and relaxed feel.
This detailed fine art painting measures at 40.5cm wide by 51cm high. Painted on stretched canvas 3cm deep, finished professionally ready to hang. 
If you have any further enquiries please don't hesitate to contact me on 0437770508. 
My prices include delivery Australia wide. 
Available in print on Museum Fine Art Cotton Card. View in print gallery. There you will get the options to choose.